Washing your dark wood floors  is a matter of cleanliness but not only. Proper maintenance helps keep its beauty longer. Therefore, a question arises: how to clean your parquet to make it shine? This involves knowing which product to use and what to do to preserve your parquet.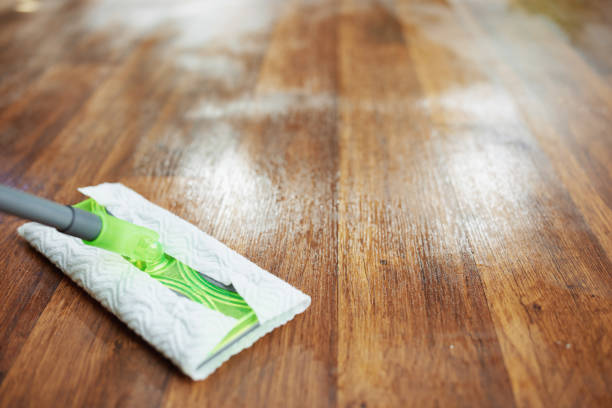 SCS Group Integrated Services, a company specializing in cleaning businesses in Marseille and its surroundings, tells you everything you need to do for the maintenance of your wooden floor.
Read Also: What Is The Buzz About The Residential Project Paras Dews Gurgaon?
How To Protect Your Wooden Floor?
To begin with, the daily maintenance of a parquet floor is not limited to washing it. To take care of your wooden floor, there are several other things to do. First of all, it should be vacuumed regularly. Thus, we protect the coatings that protect the raw wood from damage.
Sand particles (brought in from outside via the soles of shoes, for example) can act like sandpaper. As a result, they can damage, abrade and deteriorate the varnish. It must therefore be vacuumed with a soft bristle brush. There are special brushes on sale for vacuuming parquet dark wood floors  and panels. Unlike those used for rugs or carpets, they do not have wheels that can scratch the floor.
To avoid having sand, mud, or other dirt coming from the outside, there are some practical and accessible tips. For example, you can buy doormats to collect water and mud and indicate to your guests a place where they can leave their shoes.
Read Also: Why Wider Planks Cost More Than Narrower Planks
How To Wash Your Parquet?
In addition to vacuuming, it is recommended to wipe your parquet floor with a slightly damp cloth or mop that has been squeezed well. It is important not to wash the wood with a lot of water even if the varnish with which the surface is covered seems effective in protecting it from humidity.
It should be noted that the wooden parquet is not a solid and compact construction but a system of boards connected to each other. Do not allow water drops to penetrate the interstices. In the long term, the risk is that the humidity will cause the wood to swell and damage the floor.
How To Specifically Clean The Wood?
Cleaning dark wood floors  require special products. It is not recommended to use preparations designed for various types of surfaces: they may contain too powerful detergents. They are also the source of residues that appear on the surface of the wood.
It is therefore recommended to choose products dedicated to floors depending on whether their finish is lacquered or oiled. For lacquered floors, grease-free preparations will be required. For washing oiled floors, it is the opposite; prefer fatty preparations.
How To Maintain Lacquered Parquet?
The shelves of hypermarkets offer agents and liquids to clean varnished dark wood floors  in particular. Good quality products for lacquered parquet create a sort of additional protective layer on the surface of the wood. You can choose between glossy or matte emulsions depending on the expected visual effect.
The maintenance of the parquet also involves its regular polishing. This exercise has the effect of strengthening the layer of varnish. It then preserves the original appearance of the finish (for example, it does not become shiny but remains dull). Many products contain wax and polyurethane. These components maintain and increase the durability of the varnish.
If you use wax for wooden floors, you must strictly follow the recommendations of their manufacturers. It is also good to take care of a wooden floor, always using products from the same manufacturer.
How To Maintain An Oiled Floor?
To clean an oiled floor, SCS Group Integrated Services advises you to only use suitable products. A whole range of products for cleaning and maintaining dark wood floors  is available in your supermarket, as for varnished wood. In order not to destroy the protective layer of the oil, it is worth choosing a liquid with vegetable soaps and natural care additives. What's good for your soil is also good for the environment!
Added to this is the use of wax to maintain your oiled parquet. Called oily wax, it combines the properties of oils and waxes. It leaves a delicate layer of protection on the surface of the wood which protects it.
Finally, you can delegate the professional cleaning and maintenance of your wooden floor to an experienced professional who listens to you and makes proposals. If you are located in a professional cleaning company in Sydney, Melbourne, Canberra, Brisbane Darwin, Perth Adelaide, and Hobart and its surroundings.